Tems net worth is estimated at $1 million. She is one of the best female performers in the nation and is renowned for her distinctive, moving voice.
After partnering with iconic artists for hit tunes such as Drake's Fountains, which was released from his album Certified Lover Boy, and Wizkid's hit track Essence, the singer broke into the mainstream when she scored two US Top 40 Billboard Hot 100 entries. Both singles had enormous success by reaching the top ten.
Name: Temilade Openiyi
Stage Name: Tems
Net Worth: $1 Million
Profession: Singer-Songwriter
Gender: Female
 Tems Net Worth and Biography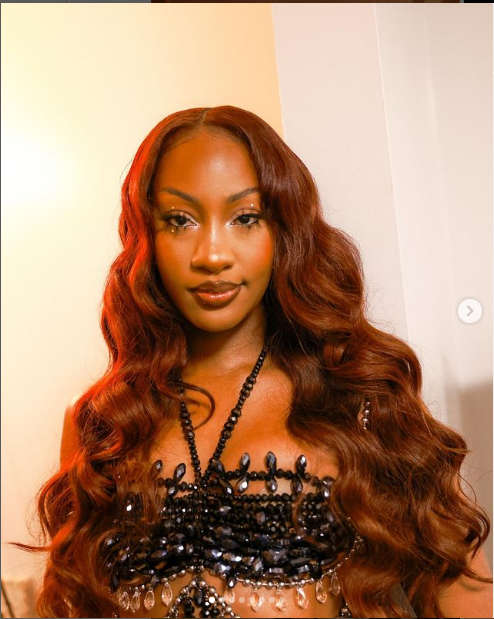 Temilade Openiyi, also known as Tems was born to a Nigerian mother and a British-Nigerian father on June 11, 1995, in Lagos, Nigeria. Soon after Tems was born, the family relocated to the UK.
When Tems was just five years old, her parents divorced and she was left without a parent. As a result, Tems and her mother moved to Ilupeju, then Lekki, before settling in Ajah, all in Nigeria.
Because the artist is very sensitive about her personal life, she has avoided disclosing any details like the identities of her parents and siblings. Tems also has an elder brother, the identity of whom is unknown.
Moving on to her studies, she first attended Dowen College in the Lagos neighbourhood of Lekki and then went to South Africa for her Tertiary education. She also attended a university in Johannesburg, South Africa, where she graduated with a degree in Economics.
She acquired an interest in music while in school and was noticed by her music teacher. She began by learning to play the piano and her brother's guitar.
Tems knew when she was 15 years old that she wanted to pursue a music career. To begin her professional music career, she stopped listening to any artist to discover her style.
Tems began composing music with her individuality, which resulted in the emergence of a style that combines R&B, Alté, and Afrobeats. She began sound production while in university and began to learn how to make beats for her tracks.
You can also check out
Blaqbonez Net Worth and Biography
Career
Tems later started a professional music career, which culminated in the 2018 release of her debut song, Rebel, for which she also created the beats. The song allowed her to become known as an Alté artist to thousands of individuals in the Nigerian music industry.
Tems released another track, Try Me, in August 2019, which went viral and reached at #1 on Apple Music Nigeria and #6 on the TurnTable Top 50 chart, with over 10 million views on YouTube. The tune was a radio smash, winning her millions of followers across the country.
Tems was given a collaboration with the popular American Khalid when the song became a tremendous success.
She quickly accepted the offer and released the Know Your Worth remix, which also featured fellow Nigerian musician Davido.
Tems finally released her debut EP, For Broken Ears, on September 25, 2020, which she produced. Damages, the first single from the EP, became a hit, surpassing her prior success with Try Me.
The following year, fellow rapper Wizkid collaborated with Tems to release his smash single Essence, which became the most successful track off his album Made In Lagos.
Drake collaborated with Tems on the tune Fountain from his Certified Lover Boy album. Tems' second Billboard Hot 100 entry was a hit because of their collaboration single.
Tems released her second EP, If Orange Was A Place, on September 2, 2021, which included the commercially successful single Cr#zy Tings, which peaked at #3 on the UK Afrobeats chart.
Guilty Beatz produced the song, which was published by RCA Records. The extended play also charted in the top ten on the Billboard World Albums chart and in the top seventeen on the Hot R&B Songs chart.
Tems was approached by RCA Records, a well-known record label, just before the publication of this EP.
Net Worth
Tem's net worth is expected to be about $1 million US in 2023. She is regarded as one of the top five female Nigerian singers and has established herself as the most successful artist. Damages, Try Me, Essence ft Wizkid, Fountains ft Drake, and Mr Rebel are some of Tems' most popular tracks.
Her main sources of income are from the music industry, which also includes record deals with Leading Vibes and RCA, live performances, collaborations with other well-known musicians, and successful singles.
Her lucrative singing career has allowed her to earn a large wealth. She earns extra money through her YouTube channel, brand endorsements, and sponsorship deals.
Tems, a well-known singer from Nigeria, has been selected as Tommy Hilfiger's newest brand ambassador. She also sponsors various other companies, like Reebok. Tem generates more than $300,000 in revenue annually.
Social Media
Instagram: @temsbaby