This post will give you an insight into the life and accomplishments of Makinde Azeez, along with an overview of his net worth.
Makinde Azeez is a renowned Nigerian entrepreneur, media personality, and philanthropist. He gained prominence as the founder and CEO of Naijaloaded, one of Nigeria's leading entertainment websites. 
With his innovative ideas and relentless efforts, Makinde Azeez has become a prominent figure in the Nigerian digital media industry.
This post will also shed light on his Makinde Azeez net worth, showcasing the financial success he has achieved throughout his career.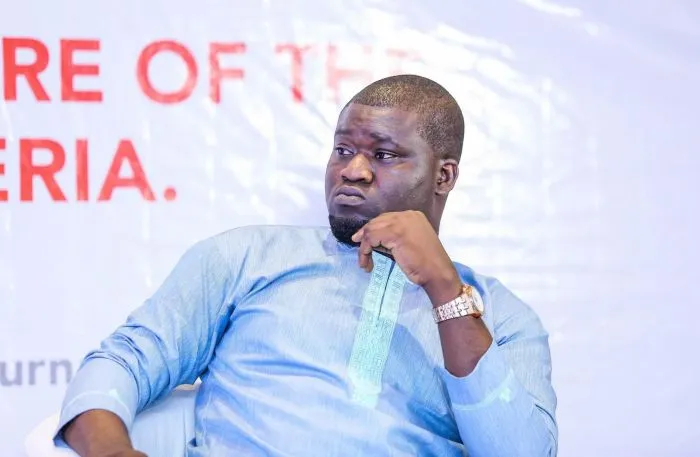 | | |
| --- | --- |
| Quick Bio | |
| Full Name | Makinde Azeez |
| Nickname | Mankind |
| Date of Birth | December 10, 1989 |
| Place of Birth | Lagos, Nigeria |
| Nationality | Nigeria |
| Spouse | Mujidat Omokehinde |
| Age | 33 years old |
| Company | Naijaloaded |
| Website | Naijaloaded.com |
| Occupation | Digital entrepreneur, Blogger |
| Net Worth | $3.5 million |
Early Life and Background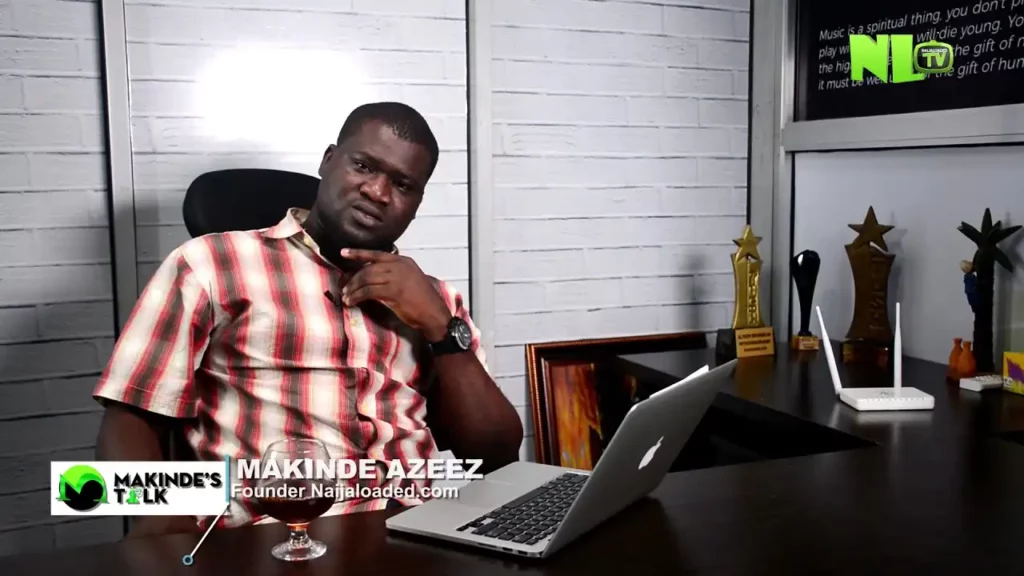 Makinde Azeez is a Nigerian entrepreneur and media personality, born on December 10, 1989, in Lagos, Nigeria. He was raised in a close-knit family, with his parents and siblings playing an integral role in his upbringing.
He was the oldest child, and his younger brother is named Abdullahi. Makinde grew up in a neighborhood called Ajegunle, located in Apapa, and he attended Ekum College in Amukoko, Lagos for his secondary education.
Makinde went to Lagos State Polytechnic (Laspotech) in Ikorodu, where he pursued a degree in Computer Science.
However, after completing his National Diploma (ND), he was unable to continue his studies for a Higher National Diploma (HND).
In 2011, Makinde Azeez got accepted into Osun State University (Uniosun) in Osogbo, where he planned to study physics for four years.
However, because he combined blogging with his education, he couldn't graduate with his classmates. He needed an extra year, making it a total of five years, and he finally completed everything in 2016.
Makinde's early life was characterized by an entrepreneurial spirit and a passion for media. He established himself as a prominent figure in the Nigerian media industry, founding Naijaloaded, a popular entertainment website, at a young age.
Through his determination and innovative thinking, Makinde Azeez has emerged as a prominent Nigerian entrepreneur, making significant contributions to the media landscape.
You may like to check out:
Hadiza Gabon Net Worth and Biography
Ayra Starr Net Worth and Biography
Ruger's Net Worth and Biography
Personal Life and Marriage
On a beautiful spring day, May 14th, 2017, Makinde started a new chapter in his life. He went from being a carefree bachelor to a committed husband tying the nuptial knot with his long-term girlfriend, Mujidat Omokehinde.
They had their wedding in a place called Northern Foreshore Estate, which is located in a lively area called Chevron Drive in Lekki, Lagos.
It was a special day filled with happiness as their families, close friends, and well-wishers gathered to celebrate their union. 
To make the occasion even more memorable, some celebrities were there and they put on amazing performances.
People were mesmerized by the soulful singing of Mayorkun and the energetic music of Qdot, Junior Boy, Terry Apala, DJ More Music, and many others.
The event turned into a magical experience that everyone who attended will always remember.
Awards and Recognitions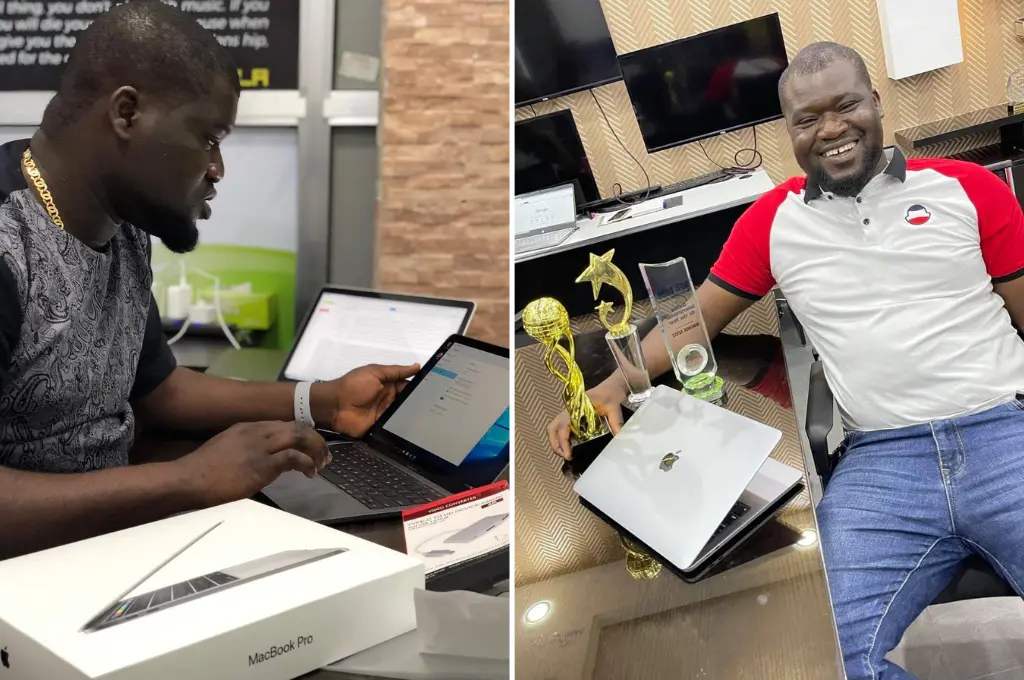 Makinde Azeez, the remarkable individual behind Naijaloaded, has consistently been honored with numerous accolades, solidifying its status as a premier music website.
Recognized for its excellence, the platform has received countless awards and even secured a prestigious City People Music Award nomination in the coveted Music Website of the Year category.
Makinde Azeez himself has garnered recognition and praise for his exceptional work as a blogger and successful online entrepreneur, being presented with various well-deserved awards in these domains.
You don't want to miss out on:
GloRilla Net Worth And Biography
Israel DMW Net Worth And Biography
Mr. Macaroni Net Worth And Biography
About Naijaloaded
Naijaloaded is a Nigerian entertainment website that was founded by Azeez Makinde in October 2009. It has grown to become one of the most popular platforms in Nigeria, attracting millions of visitors each month.
According to verified sources, it is confirmed that the website experiences over 1.2 million visitors daily and generates at least $8,000 in revenue per day.
Known for its diverse content, Naijaloaded provides music, videos, news, and other forms of entertainment to its audience Naijaloaded is estimated to be worth a whopping $2 million. 
Makinde Azeez Net Worth
As of 2023, Makinde Azeez, also known by his nickname "Mankind," is reported to have a net worth of $3.5 million. The 33-year-old entrepreneur accumulated his wealth primarily through his successful career as a blogger in the digital space.
Makinde embarked on his blogging journey immediately after graduating from college, making him one of the early pioneers in Nigeria's digital landscape.
Throughout the years, Makinde Azeez has gained recognition as the sole owner and founder of Naijaloaded, one of Nigeria's largest and most popular entertainment websites.
It is believed that he achieved his breakthrough after years of developing this platform, which now attracts millions of monthly visitors and generates hundreds of thousands of dollars in annual revenue.  
Social Media Handles
Instagram – @mankind_naijaloaded
Facebook – @MakindeAzeez
Twitter – @jtek4all (Makinde Azeez)